Welcome
Stanley Hupfeld Academy at Western Village is a public neighborhood charter school in the Oklahoma City Public School District. We are the first ch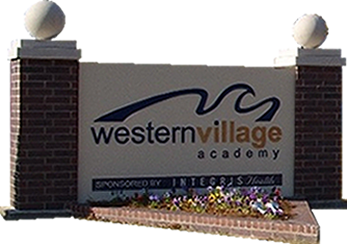 arter school in the state to serve the children in our own area. With the help of Integris Health, over 300 mentors, and parental support we have made great strides forward. Our successes include raising our state report card from a "D-" to a "B", increasing enrollment from 150 to 330 with a waiting list, increasing student involvement in sports from 23% to 76%, and a decrease in conduct referrals (from 37% to 11%). We are an Oklahoma A+ network demonstration model school. The arts are integrated throughout the curriculum. Through tremendous community support and a dedicated staff, Stanley Hupfeld Academy provides effective learning opportunities for all students. In addition, we are a Certified Healthy School of Excellence and a member of the Healthy Schools OK Network. Our mission is to create a community of lifelong learners through positive connections and rigorous, integrated curriculum to inspire excellence.
Go Eagles!!!
About Us
About fifteen years ago, Western Village was facing the possibility of closure. Enrollment had declined and the test scores were in the teens and twenties! INTEGRIS Health stepped up to the plate in 1998 and started an after school and summer program. Soon thereafter, a new staff was hired and the success story continued.
In the Fall of 2000, Western Village opened as one of the State's first elementary public charter schools, Western Village Academy, Inc., the only charter school to serve the children in its attendance area rather than selecting students from a pool of applicants. Enrollment has increased from 150 to 330 with an annual waiting list.
Today, the facilities have been completely renovated, state-of-the art library/media and technology centers have been built, a walking track has been installed, and a master staff of teachers is on board. The test scores are now in the 70's and 80's.
Western Village features an arts-integrated curriculum with full time specialists in visual art, music, dance/p.e., technology, and literary arts. A full time physician's assistant and counselor are on staff to serve students' and their families' needs. Every child in grades KG-5 has a mentor who comes to visit them once a week for one hour.
Students in Grades Pre-K through fifth grade are served by a teacher and paraprofessional. Grades K-5th grade have no more than 23 students in each class, and total school enrollment is held at 330.
We continually look to improve our instruction and teaching by looking at how we are impacting our student's learning. One of the areas that we are aiming to improve in is reading instruction. Our staff attends professional development opportunities on the balanced literacy approach with the guided reading component. We will be integrating this into our curriculum. This approach is researched based and allows the teacher time to work with each level of reader in a small group setting. These groups will be leveled within the classroom. Your continued support with reading at home is critical! Please read to or have your child read to you each night!
Parent and community involvement has been key to the success of Stanley Hupfeld Academy. Not only has INTEGRIS' support been solid and ongoing, but Oklahoma Christian University, a local fire station, and several nearby churches have adopted Stanley Hupfeld Academy and its teachers and children. Many donations have been made to help the school. We continually seek mentors to work with out students. If you would like more information about this opportunity, please call the school office.